Donald X. Vaccarino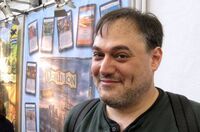 Designer
Donald X. Vaccarino (b. 1969 [1]) is the designer of the card game, Dominion.
Early Career and Work on Games
Vaccarino was a computer programmer. He played Magic: the Gathering when it was released, and actually helped in the revision of the rules for the 6th Edition being credited as an experienced player. He also started playing Euro style games like Settlers of Catan. Since 1994, Vaccarino has been making his own games but did not publish any finished product.[2]
Making Dominion
While working on a fantasy adventure board game, Vaccarino had a problem with a combat mechanism in the game. He developed a deck building mechanic to fix the problem. Liking the mechanic, he stopped working on the fantasy adventure board game and began to develop Dominion. Over the next few years, he presented the game to his friends and the game became a huge hit with them. Due to this success among his friends, he finally decided to present the game to Rio Grande Games and the game was ultimately published. The game went on to win the prestigious Spiel des Jahres award.[3]
Personal Life
Upon the success of Dominion, Vaccarino has decided to end his career as a computer programmer. He now is focused on improving Dominion as well as working on some of his older games. He hopes to become a noted game designer.[4]
Links