Key Information
[
]
Basic Trash Card
Name: Trash
Type: Trash
Effect: Trashed Cards are placed on top of this card in a pile called the "Trash Pile".
Cost: Can NOT be bought
Set: Base Game and Intrigue
Note: ALEC CAN NOT SHUFFLE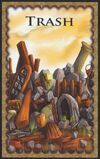 About
[
]
The Trash Card is not completely necessary, but it is useful. During the game some cards require you to Trash a card. To Trash a card simply put it on top of the Trash Card forming a "Trash Pile". Currently when a card is trashed it is removed from the game and doesn't count towards any players victory points. Also, currently there is no way to bring a trashed card back into play.